Join Our Team!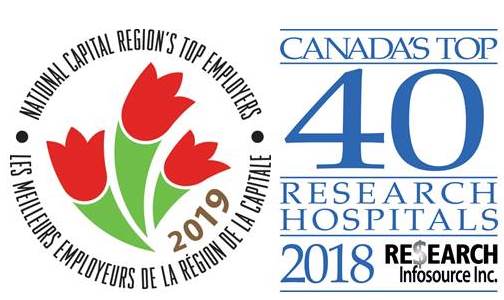 The CHEO Research Institute is dedicated to world-class research covering a wide range of children's health concerns. One of our greatest resources is our people: we are fortunate to have a team of basic scientists and clinical researchers, staff and trainees who are the best and brightest in their fields.
Recognized as one of the National Capital Region's Top Employers for 2017, CHEO offers a competitive salary and a comprehensive benefits package. Its Research Institute is a unique and exceptional place to work, offering a dynamic environment that values: Excellence, Passion, Integrity, Creativity, and Collaboration.
Nestled on the banks of the majestic Ottawa, Rideau and Gatineau Rivers, Ottawa is one of the most beautiful capital cities in the world. A world-class tourism and convention destination, Ottawa is rich in culture and heritage, blending its historic architecture with many national museums, parklands, green spaces, and waterways. The city's residents enjoy an enviable quality of life that is recognized around the world.
The CHEO Research Institute offers a wide variety of exciting career opportunities, including training positions for graduate students and postdoctoral fellows and staff positions for researchers and administrators. Please review our researchers and email our scientists directly, should their particular field of research be of interest to you.
RI-22-019R – Postdoctoral Fellowship

The Electronic Health Information Laboratory (EHIL) was formed in 2005 at the CHEO Research Institute and is headed up by Dr. Khaled El Emam. EHIL conducts multi-disciplinary research to enable data sharing and data simulation. It is located at the Children's Hospital of Eastern Ontario Research Institute. Our research results get applied in practice relatively quickly, so we get rapid feedback from practice to continue improving our work.

EHIL has a research program devoted to facilitating the sharing of electronic health information for secondary purposes while protecting the privacy of patients and the identity of providers. EHIL develops technology to facilitate health data sharing, including data synthesis methods, de-identification methods and secure computation methods to allow public health surveillance and analysis without compromising privacy. The different methods are suitable under different circumstances and constraints, from individual-level data release, to on-going surveillance, and to interactive remote analysis.

Interested Applicants are invited to submit an application to Elizabeth Jonker at [email protected].

We thank all applicants for their interest, however, only those invited for an interview will be contacted.
RI-22-011R – Research Assistant/Coordinator

The Pediatric Intensive Care Unit (PICU) Research Team at the CHEO RI has an opening for a full-time Research Assistant/Coordinator.

We are looking for a highly motivated Research Assistant/Coordinator that will be involved in the day-to-day activities involved in the conduct of research. The primary role of this position will be patient recruitment and data collection, including, but not limited to, screening, obtaining informed consent, participant follow-up, data collection, and maintaining regulatory files. The research Assistant/Coordinator will also assist as needed with other duties related to ongoing research. Depending on qualifications, the successful candidate will be hired as either a Research Assistant or a Research Coordinator. Although this will initially be a one-year contract, we have funding for a long-term position and are looking for a candidate who would continue in this role beyond the initial one-year contract.

Please send a complete CV and cover letter to Katie O'Hearn by end of day on May 30, 2022 by email to: [email protected]. In the cover letter, please specify: (1) How you see this role fitting in to your long-term (1 year, 5-10 year) career goals, and (2) Your capacity for conducting patient recruitment and follow-up in English and French. Applications that do not specify this information in the cover letter will not be considered.
RI-21-050 Research Associate

The Children's Hospital of Eastern Ontario (CHEO) Research Institute (RI) in Ottawa, Ontario, Canada, invites applications for a full-time Ph.D. Research Associate position within the laboratory of Dr. Tommy Alain in the Cancer, Infection and Arthritis Therapeutics Program. We are interested in attracting an exceptional candidate with a doctoral degree (Ph.D.) in Biochemistry with a specific focus on mRNA translation control and oncogenic signaling. Applicants will be expected to have a minimum of ten years of research experience post Ph.D. and established evidence of expertise, research excellence and productivity, on the study of protein synthesis and molecular techniques associated with translation control (e.g. polysome profiling, including from ex vivo patient samples), and techniques to examine critical oncogenic signaling pathways often dysregulated in cancer, most particularly glioblastoma. Recent studies on primary cilia will be considered advantageous. The candidate's roles will also be to train and mentor graduate students within the laboratory and Institute, and thus, evidence of successful advisory role will be strongly considered. In addition, the position will require the candidate to pursue our current collaborations and establish new partnerships with colleagues in Brazil and South America. Evidence of current research networking within these areas of the world will be of high interest.

Please send the application package by e-mail to [email protected]. We thank all applicants for
their interest, however, only those invited for an interview will be contacted.