Join Our Team!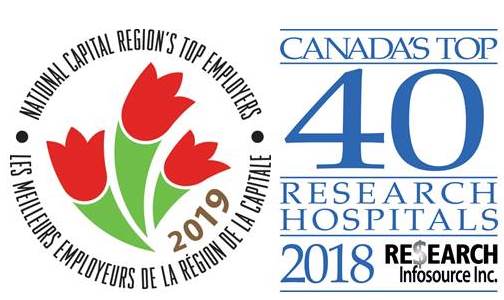 The CHEO Research Institute is dedicated to world-class research covering a wide range of children's health concerns. One of our greatest resources is our people: we are fortunate to have a team of basic scientists and clinical researchers, staff and trainees who are the best and brightest in their fields.
Recognized as one of the National Capital Region's Top Employers for 2017, CHEO offers a competitive salary and a comprehensive benefits package. Its Research Institute is a unique and exceptional place to work, offering a dynamic environment that values: Excellence, Passion, Integrity, Creativity, and Collaboration.
Nestled on the banks of the majestic Ottawa, Rideau and Gatineau Rivers, Ottawa is one of the most beautiful capital cities in the world. A world-class tourism and convention destination, Ottawa is rich in culture and heritage, blending its historic architecture with many national museums, parklands, green spaces, and waterways. The city's residents enjoy an enviable quality of life that is recognized around the world.
The CHEO Research Institute offers a wide variety of exciting career opportunities, including training positions for graduate students and postdoctoral fellows and staff positions for researchers and administrators. Please review our researchers and email our scientists directly, should their particular field of research be of interest to you.
RI-21-024 – Research Assistant

We are seeking a Research Assistant to join the Orthopaedic Research Team. The successful candidate will be involved in several studies, under the supervision of the research coordinator and the principal investigators. We are a close team working in a very fast-moving environment. There is opportunity for individual growth and learning. Duties can include: participant identification, recruitment and consenting, upkeep of documentation and data entry, study administration and organization, data management.

Please submit your Cover Letter and CV as one PDF document with the subject line "Research Assistant Position – Last name, First name" to [email protected].
RI-21-023 – Research Technical Support

The team requires a Full Stack Drupal Developer to contribute to the success of our collaborative inter-disciplinary team. Our tech stack leverages Drupal, REDCAP, MySQL and PWA, along with current HTML/CSS/JS best practices. You will be responsible for the maintenance, future development, documentation and deployment of the ACHWM.ca public site and password-protected member portal.

Interested candidates should submit an electronic copy of your cover letter and curriculum vitae to Sasha McBride at [email protected]. Should the applicant require any accommodations during the application process please notify Human Resources as per the Accessibility for Ontarians with Disabilities Act. Applications will only be considered for those that are eligible to work in Canada. We thanks all applicants for their interest. However, only those invited for an interview will be contacted.
RI-21-025 – Research Coordinator

The Research Coordinator will coordinate cutting-edge clinical trials in Angelman syndrome, Rett syndrome and similar pediatric neurodevelopmental conditions. The role of this Research Coordinator will be to facilitate and assist with the Main Responsibilities outlined below.

Interested candidates should submit a cover letter of interest and curriculum vitae to Jennilea Courtney at [email protected].