Join Our Team!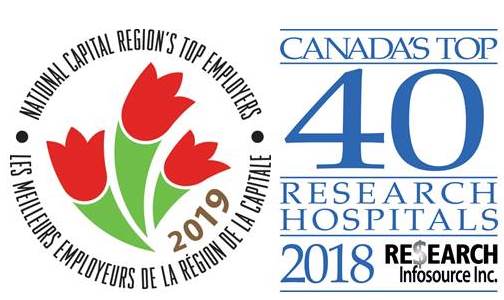 The CHEO Research Institute is dedicated to world-class research covering a wide range of children's health concerns. One of our greatest resources is our people: we are fortunate to have a team of basic scientists and clinical researchers, staff and trainees who are the best and brightest in their fields.
Recognized as one of the National Capital Region's Top Employers for 2017, CHEO offers a competitive salary and a comprehensive benefits package. Its Research Institute is a unique and exceptional place to work, offering a dynamic environment that values: Excellence, Passion, Integrity, Creativity, and Collaboration.
Nestled on the banks of the majestic Ottawa, Rideau and Gatineau Rivers, Ottawa is one of the most beautiful capital cities in the world. A world-class tourism and convention destination, Ottawa is rich in culture and heritage, blending its historic architecture with many national museums, parklands, green spaces, and waterways. The city's residents enjoy an enviable quality of life that is recognized around the world.
The CHEO Research Institute offers a wide variety of exciting career opportunities, including training positions for graduate students and postdoctoral fellows and staff positions for researchers and administrators. Please review our researchers and email our scientists directly, should their particular field of research be of interest to you.
RI-21-029 – Research/Project Coordinator

The CHEO asthma program is intended to improve the quality of care provided for children with asthma who are seen at the Children's Hospital of Eastern Ontario and to support capacity for managing children with asthma in the Ottawa region. Within CHEO, the program aims to improve care for children with asthma seen in the outpatient clinics as well as those admitted to hospital or seen in the emergency department. Individuals at CHEO who provide care for children with asthma form a multi-disciplinary group including physicians, nurses, respiratory therapists, pharmacists, and others.

The CHEO Asthma program is looking for a temporary full-time (0.8 FTE) Project Coordinator to help support the CHEO asthma program and related research activities. The position is available for at least 6 months and may be renewable beyond this. The individual hired for this role will be responsible (with support from the CHEO respirology physicians, and the Asthma Advanced Practice Nurse) for designing and coordinating quality improvement studies to measure the success of the program, analyzing outcomes and preparing progress reports and presentations to summarize the findings. An additional role of this individual would be to provide research coordination for scientific research projects related to asthma care improvement led by investigators within the Division of Respirology at CHEO. Currently ongoing projects include a Health Canada regulated trial, systematic review and several student-led cohort studies.