Join Our Team!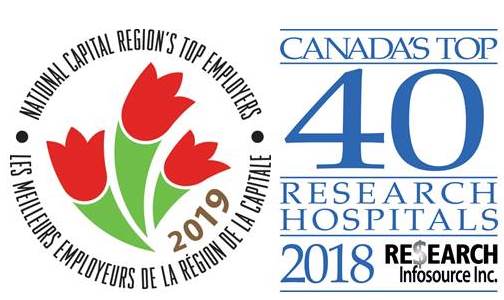 The CHEO Research Institute is dedicated to world-class research covering a wide range of children's health concerns. One of our greatest resources is our people: we are fortunate to have a team of basic scientists and clinical researchers, staff and trainees who are the best and brightest in their fields.
Recognized as one of the National Capital Region's Top Employers for 2017, CHEO offers a competitive salary and a comprehensive benefits package. Its Research Institute is a unique and exceptional place to work, offering a dynamic environment that values: Excellence, Passion, Integrity, Creativity, and Collaboration.
Nestled on the banks of the majestic Ottawa, Rideau and Gatineau Rivers, Ottawa is one of the most beautiful capital cities in the world. A world-class tourism and convention destination, Ottawa is rich in culture and heritage, blending its historic architecture with many national museums, parklands, green spaces, and waterways. The city's residents enjoy an enviable quality of life that is recognized around the world.
The CHEO Research Institute offers a wide variety of exciting career opportunities, including training positions for graduate students and postdoctoral fellows and staff positions for researchers and administrators. Please review our researchers and email our scientists directly, should their particular field of research be of interest to you.
Research Mentorship Program
The CHEO Research Institute offers a Research Mentorship Program to its early career researchers who self-identify as wanting a mentor. The early career researcher (in the first five years of their career and who has demonstrated a specific research focus) will be paired with an experienced investigator/research professional who can provide career development and mentorship tailored to their research focus and desired career path.
RI-22-035 – Postdoctoral Fellowship: Indigenous Children's Health

The Post-Doctoral Fellow's program will expand the ACHWM research in a new direction, consistent with their training and career path. This role is intended to prepare the candidate for an academic career. Emphasis will be on developing research proposals, conducting high-calibre research, and publishing results in peer-reviewed journals. Relationships with Indigenous communities are highly valued and will be cultivated during the time of this fellowship.

Please send a complete your application through our Post Doc Applications Link on REDCap, where you will be required to answer a few key questions and upload your cover letter and CV.