05/07/2022
Ottawa, Ontario — Tuesday July 5, 2022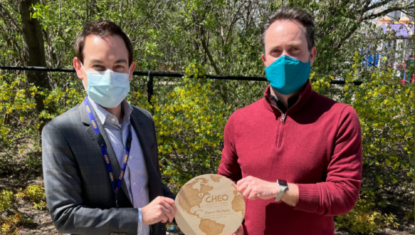 Having immersed himself in the timely research of N95 mask decontamination to ensure a reliable supply of personal protective equipment at CHEO at the outset of the COVID-19 pandemic, Dr. Dayre McNally, Senior Scientist at the CHEO Research Institute and critical care physician at CHEO, also noticed shortcomings with masks being worn in the community setting. Individuals and their families had to choose between single-use, not environmentally friendly hospital grade surgical masks or re-usable, cloth masks which often had poor filtration efficiency (averaging 30%). 
"We recognized the need for another category of mask; one with good particle filtration efficiency that could be cleaned and sterilized in the home environment with minimal loss in performance," said Dr. McNally. "It seemed as if there were bicycles and F-150s in the mask market, but no one had made a good solid sedan." 
A key step was connecting with EcoEquitable, an Ottawa-based not-for-profit that provides women with sewing job/employment opportunities with a focus on recycling and sustainability, and Dessius, a textile consultancy in Calgary. Recognizing a shared interest in providing Ottawa with a high-quality eco-friendly mask, the three teams collaborated to design a fashionable and comfortable mask with a filter that maintained high particle filtration despite cleaning and sterilization through regular laundering at home.  
A critical step in mask development was acquiring and testing approximately a dozen different filters from manufacturers across the world. These filters were sent to the National Research Council to calculate not only their initial filtration efficiency, but also performance after 50 washing cycles. Fortunately, one of the filters demonstrated very high efficiency when new (88%), with minimal loss following repeated washing (>70%). Following the task of building the filter into the mask, Dr. McNally received approval to have CHEO employees (experts in wearing personal protective equipment for long periods) trial the mask in various community settings and provide feedback to improve the mask design including aspects such as materials, sizing, and strap adjustments.  
The first 1,000 masks, dubbed "The Ottawa Mask", were manufactured and sold online starting in April 2021 through EcoEquitable's website and in person at Kardish Health Food Centre stores. Public reception was incredible, with the first 1,000 masks sold in less than 24 hours, and 4,000 masks over the first week of sales. In total, 15,000 Ottawa Masks were produced and sold in 2021, with profits of approximately $30,000 donated to CHEO. 
"I am very proud of what we were able to accomplish. It took help from dozens of people across the hospital and research institute to make the project a success. We really pushed the limits of what was possible as a research institute," said Dr. McNally. "Critically, this project helped our new Innovation and Commercialization research core identify opportunities and current limitations as we continue to explore and refine bridging the gap from innovation and research to industry and commercialization."
Read the full 2021-2022 CHEO Research Institute Annual Report.
Areas of Research